Fun Hair Stuff news Issue 1: Dec 2012
Why fit in when you were born to stand out!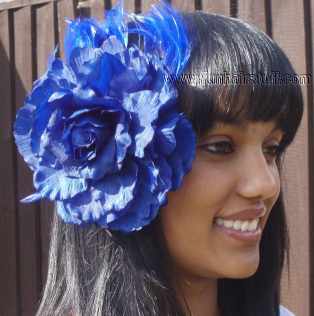 Had enough of trawling the Internet or tramping the streets looking for exactly the right accessory for your special outfit?
We pick the best in unusual and sophisticated hair and costume accessories for you. We make quirky and unique hair accessories and decorated hats. We also stock the best in festival and party temporary hair and body decoration and make up products.
Still can't find what you are looking for? Talk to us. The chances are we can make or alter it for you!
Welcome to the first issue of Fun Hair Stuff News! We know its been a long wait for some of you. Thanks for your patience. Hope it's worth it!
If you like this e-zine, please do a friend and us a big favour and 'pass it forward'. If a friend did forward you this e-zine and you like what you read, please visit this page to subscribe. Please don't worry - we won't bombard you with emails - the newsletters will come out at most once a month - and you'll find exciting offers, ideas and new products in them.
In this issue:
The solution when you want this:

but your boss wants this …
Spotlight on masks The look - zebra stripes Our favourite things Tips and tricks... Things you can do ... Where next? We can't wait for … Featured customers - are you there! Do us a favour? Your thoughts!

It's difficult to find a compromise when you want this

and your boss wants this ...
But we think we have cracked it!
Our Our long, layered hair falls can be worn for an evening or all day they're so light and comfortable. Easy to put in and out, they come in a choice of around 60 colours and with instructions. All you need is enough hair to tie into two high buns. Not enough hair? Not a problem! For a small extra charge we can attach them to a headband so you can wear them anyway!
Venetian Style Masks
We know that lots of you are looking for quality Venetian-style masks to wear for Christmas and New Year parties. We have a large range in stock of headband masks for men and women in some really great designs. Whether you are looking for sophisticated black, a themed design or something to match the colour of your outfit you'll find something here! We also have a fun range of animal masks with sounds (you just press the nose!) Favourites as gifts for children - and they go perfectly with our fur fabric animal tails.

We're planning to start stocking some very upmarket filigree metal masks soon too.
The look - inspiration for a themed outfit.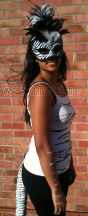 This month we thought we'd come over all stripy and do a 'Zebra' look! Sabrina is wearing a black and white feather hair comb, a zebra headband mask, Stargazer white nail varnish with black stripes made using a Nail Art Pen, clip on zebra tail, Stargazer feathered eyelashes design 72 and Stargazer white face paint (on her arms!)
Our favourite things!
Clip on animal tails! These are really special tails! Almost every child, and a good proportion of adult gravitate towards these on the stall! The animal print tails have especially soft silky fur that no-one can resist stroking. The long curly ones reach almost to the floor even on average height adults! The clip attaches to a trouser loop or belt, or even sits over the waistband of a skirt. Festival favourites for dressing up, and children love them. Look at these latex anime/manga/cosplay wigs! I wasn't sure about the idea of latex wigs at first, but now I'm an enthusiast! They have so many advantages over synthetic hair wigs! They can't get messed up, they are weatherproof, washable and almost indestructible - perfect for a night on the town! It's easy to hide your hair under them, and they look great! Thick and thin yarn. Pure Welsh wool, with a really soft feel. The colour range is amazing. We use it in our hair falls, feathered dreads and wool hair flowers. You can also buy packs from us to make your own hair wraps, dreads and plaits.
Tips and tricks – Comb hair accessories
We often hear customers say that they can't wear comb hair accessories, especially if they have short or fine hair. Here's how to make a comb stay, whatever your hair type! First, backcomb the area of hair where you want to place the comb. Then add some hairspray. Now place your comb. You should find that it stays securely even in quite short hair!
Things you can do
One of our best sellers on the stall last summer was our plaited hair braids. Depending on the type and amount of thread or yarn used they can be very subtle or outrageous! (Or anywhere in between!) One of the quickest and easiest braids to learn to do, you can follow our photographic instructions here.
Where next?
If you're near Nottingham you'll find us at Wollaton Hall Christmas market on 8 and 9 December and again on 22-23 December. Hoping to be at Allestree, Derby on 15 and 16 December.

Believe it or not, our first music festival is on the first weekend of January! We'll be at Luxury Soul Weekender in Blackpool. At the end of the month we'll be at Gloucester Cajun Festival.

(PS We were at Whitby Goth Weekend in November. If you love costume and you've never been, consider a trip. The most amazing costumes I've ever seen! See their gallery here.)
We can't wait for...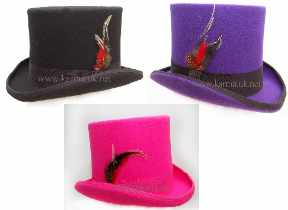 Top hats, top hats!
We are really excited about this great range of sized felt top hats in so many colours! They come in black, grey, white, brown, green, red, burgundy, pink and two shades of purple! Even more excited about decorating them for customers. Gothic, themed, flowered, feathered, dreaded, wedding toppers, Morris and traditional dance hats or just quirky one-offs – we do them all. Watch out for our Kickstarter promotion in January. We'll keep you informed!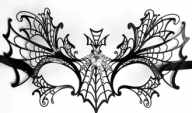 Filigree metal and venetian style masks
One of our wholesalers has an amazing new range of masks coming in. Check out these pictures! They will be available to order from January.
Featured customers
We've had so many great customers over this year, despite the wind, rain and mud! It seems unfair top pick out one or two, you've all been lovely – and we get such a boost when you love the stuff we make and sell...

But here's one or two of our favourites...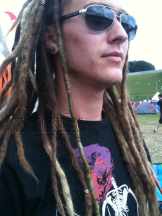 Jo – also known as Dr Knots – came to see us on the stall at Boomtown Fair– still proudly wearing the dreadlock wrap we had put in for him the previous summer!! By the way, if you are in the South and looking for someone to dread your hair, or tidy up your locks, look no further. Jo makes the best and tightest dreads we've seen! (Believe me, we see plenty!) But he also does 'scruffy' dreads if that's what you want! Jo's facebook page is here.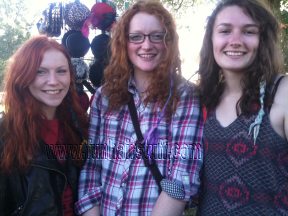 These three customers were from Kendal Calling. Looks like they had a great time!

This guy's friend bought him our Spiderplant hat. They were from a band called Dead Lettuce! Loads more customer pictures on our Facebook Page.
Do us a favour!
We're a small business trying to do something we think is unique! There are lots of ways you can help us! Forward this eZine to interested friends (but please don't spam people!) Recommend us to your friends. Like our Facebook page. Ask for business cards and flyers if you have somewhere you could distribute them. Are you connected with a floral/wedding related business? You could display our wedding hair accessory leaflets and earn a percentage of any weddings commissions we get through you. Mention us or link back to our instructions site, shop or Facebook page from your blog or website. Buy (or ask for) Christmas presents from us! Send us your photos of you wearing any of our products! Or a short testimonial. In return you get a £5 voucher off your next purchase!* If you've bought from us, review us on This is Nottingham or FreeIndex (or any other website business review sites!) * Conditions apply. Please see our Facebook Page for more information. Any feedback? We'd love to hear from you! Reply to this eZine to tell us what you think or make suggestions.